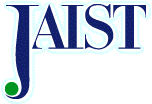 Japan Advanced Institute of Science and Technology School for Information Science Inoguchi Laboratory
Laboratory Introduction
Our research interest is mainly massively parallel systems. Researches of massively parallel systems have many processing levels; configuration of parallel arithmetic units in a VLSI chip, massively parallel systems that consist of a large number of microprocessors, PC-cluster that combines many Linux-PCs with high speed networks, and widely distributed systems such as GRID. We are developing construction method for or technology to use massively parallel systems. Followings are major research topics.
chip level parallelization (FPGAs, Logical circuits, architectures)
massively parallel computer architectures (interconnections, implementation methods, Wafer Scale Integrations, 3D Stack implementations, heat radiation.)
GRID (GRID architecture, high speed networks for GRID)
Japanese e-Learning
"Real time watermark detection on internet and right trade of digital contents", supported by JSPS research grant.
"Ultra fine grained parallel processing by hardware programming", supported by "Information and Systems", PRESTO, Japan Science and Technology Agency.
"Advanced visualization system to support large distributed simulations", supported by Nano-Tech research section for SuperSINET.
"Research on Japanese e-Learning system for oral communication skills", supported by Strategic Information and Communications R&D Promotion Program (SCOPE), Ministry of Internal Affairs and Communications
VizGrid.
Members
Seminars and Colloquium
We have two seminars in a week.
History of the Laboratory
April, 2004 Start the joint seminar with member of Horiguchi laboratory(master's second year student) due to moved out Prof. Horiguchi.
April, 2004 Student temporaily assignment
July, 2003 student assignment(four master's student)
April, 2003 Inauguration and student temporarily assignment
Albums(under construction)
Contacts
---
ino-lab@jaist.ac.jp ¡¡Validation checked by Lynx, Internet Explorer, Opera, Mozilla, Netscape, w3m.
Version info: $Id: $